Natural Bridal Makeup Artists In New Jersey
Looking for that glowy, dewy, radiant wedding makeup look, and still want to still look like yourself? Beauty On Location NJ's natural bridal makeup artists are ready to make you up to be the best version of yourself on your wedding day.
Contact Us
Bringing Out Your Best Self For Your Wedding Day
Beauty On Location NJ offers luxury bridal makeup services and our highly accredited makeup team is made up of skilled artists who have worked with Bobbi Brown and Bridal Fashion Week. Their work has graced the cover of New Jersey Bride magazine and featured on StyleMePretty.com. Moreover, they hold the top-rated spot on Top Artist on The Knot.
Beauty On Location NJ hand-select a set amount of weddings each year to ensure each bridal party receives premium service. Their natural bridal makeup team serves NJ, NY, Philadelphia, and destination wedding locations. Brides can confidently book Beauty On Location NJ, as they are a preferred vendor for local NJ venues including Natirar, Hamilton Farms, Pleasantdale Chateau, and Fiddler's Elbow.
BE NATURAL. BE BEAUTIFUL. BE YOU.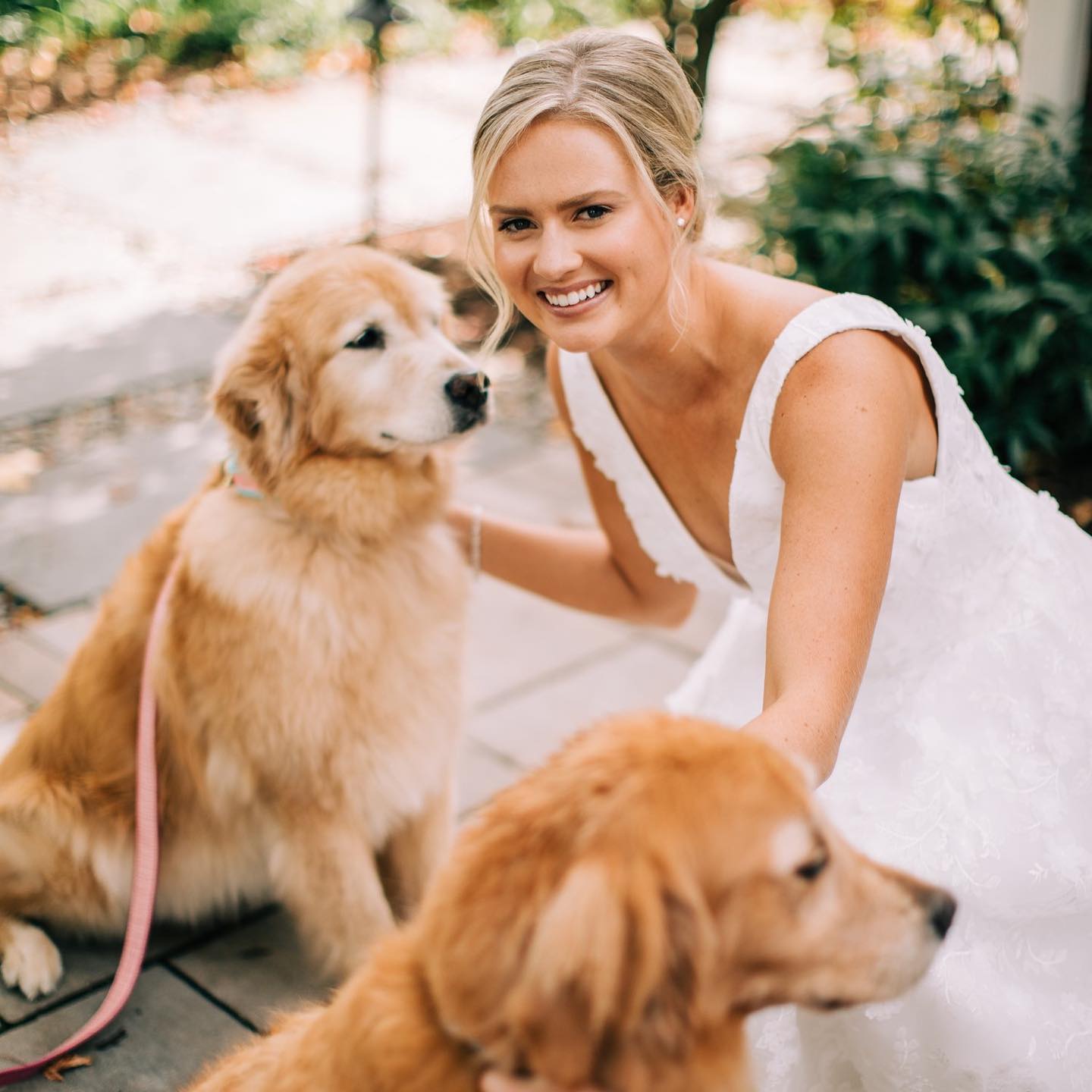 Show Off Your Natural Wedding Look For The 'Gram!
Follow Beauty On Location NJ On Instagram
Read Our Bridal Makeup Reviews
Beyond happy with Beauty on Location, and specifically Amy, for my wedding makeup! I had to reschedule due to covid, and the Beauty on Location team was always on top... show more of emails, which was appreciated during the hectic scramble. We had a very VERY hot wedding day, but our makeup stayed put without any melting. Amy did the makeup for myself (the bride), 4 bridesmaids, as well as the mothers of the bride and groom. She arrived early and helped keep the day on schedule. Overall was so so happy and would absolutely recommend to anyone in the area.

Julia Zecchini


September 30, 2021

I loved my experience working with Beauty on Location for my bridal party makeup. I first heard of them as a bridesmaid for another wedding and was so impressed, I... show more booked them for my own wedding. Amanda and Alex H. did an amazing job on all of us. I don't wear makeup other than mascara on a regular basis, so I really appreciated that during my trial, Amanda made sure I knew what lip color to get and some day-of items for touch-ups. I had a fantastic experience working with Beauty on Location.

Virginia


November 30, 2021

AMAZING! Lindsey exceeded expectations! My best friend got married this past weekend (D'Anna/Conway wedding) and I am a PITA! I never like the end result when other ppl do my... show more makeup, I always feel like it is overwhelming/too much; she did exactly what I asked her to do. (A very natural look). She was so sweet and worked with me to make me feel comfortable in my own skin! By far the best wedding makeup I've ever had! (I've been I bridesmaid 5x). I would definitely recommend Beauty On Location!

brianne sheehy


November 30, 2021

Beauty on location went above and beyond my expectations! Amy's team is always professional and are all so talented. I don't wear a ton of makeup and don't like feeling... show more like I have a lot of makeup on. Her team listened to me and gave me a very natural look! I loved how I looked on my wedding day. I would highly recommend Beauty on Location for any event!

Marlee Armstrong


November 30, 2021

I used Beauty On Location for my wedding day makeup and I couldn't be happier. It turned out better then I could've imagined. Thank you for making me feel amazing... show more on my special day!

Samantha C


December 30, 2021

I had the best experience working with Beauty On Location. Not only were they professional and on-time, but they were friendly and fun to work with. My girls and I... show more loved the work that Amy and Amanda provided for us. We were able to convey to them
Exactly what we felt comfortable with. As a new mom, I haven't exactly given myself all the time in the world to think of how I would look on my wedding day, but Amy was able to transform me into a bronze
Goddess!! — with no trial at all!!! I would
Highly recommend Beauty on Location for any of your future makeup needs!!! This team is amazing!

Grace Decker


August 30, 2021

Amy and her team were just beyond wonderful to work with for my December 2021 wedding. I had a hard time picking out a makeup artist because so much of... show more what is out there is full glam unrecognizable cakey looks especially in the NJ area (in my opinion). If you are looking for a more minimalist, classy, natural or softer glam look around the NJ area, Beauty On Location is it. I worked with Amy for my trial and wedding day. She is extremely knowledgeable and a true veteran expert at what she does! I had my trial with Amy about a month before the big day and she immediately made me feel at ease, was detailed, and took note of the tweaks I had in mind for the wedding. I didn't have a bridal party but did have family members and my officiant get their makeup done by Amy, and everyone looked FABULOUS. I was so impressed with how well she executed her craft on such a wide variety of skin types, tones, and ages ranging from 30-70. Amy also left me with full size lip samples for my own touch ups throughout the night. Working with Amys team behind the scenes was also flawless, her team is super organized and responsive. All around the best decision I made was choosing Beauty On Location for my big day. Thank you so much Amy!

Y B


January 30, 2022

Unbelievable work as always! Beauty on Location was the make up team for my best friend's wedding and I knew i had to book them for mine immediately. Their ability... show more to provide high quality makeup that looks natural both in photos and in real life is truly unbelievable! So easy and professional to work with! I wish I could hire this team every day!

Nicole Pandolfo


November 30, 2021

I recently used BOL for my wedding makeup. Amanda did such an amazing job with my makeup and for my entire wedding party. She arrived early and was open to... show more my questions as to any changes since my wedding makeup trial. She made me feel so beautiful and more importantly, like myself. My husband even commented that I still looked like myself, which is exactly what I would want him to say. I highly recommend Amanda and BOL!

Marissa D.


April 9, 2022

Beauty on Location was amazing! I worked with Erin for my trial and for my wedding. Even after our date being postponed due to COVID, the consistency in make up... show more artist made my experience so special. Their style of make up helps you feel like your most beautiful self! They are true professionals and definitely the way to go for a natural and stunning wedding day look!

Kate Michaels


October 30, 2021

Absolutely wonderful to work with. Catherine and Lori were phenomenal. They made me and my wedding party feel and look like a million bucks! Easy to work with, showed up... show more on time and completed everyone on time.

Kelsey Newman


March 2, 2022

I loved working with the Beauty on Location team! They truly have perfected the natural 'you but better' bridal look. I didn't want to look too-made up on my wedding day and... show more Amy made me look and feel beautiful. Amy and her team made the whole process easy, from my scheduling my first trial, to numerous date changes, and arranging the getting ready schedule for the wedding day. I can't thank Amy and her team enough and you should definitely book them now!

Hailey Grossel


November 30, 2021

Beauty on location is awesome! I wanted to have natural make-up but not look like I didn't have make-up on for my wedding day. Beauty on location did just that!... show more I was so happy on how my make-up turned out on my wedding day. They also are so easy to work with on the planning side. I had lots of bridesmaids and they did such an amazing job. My bridesmaids and mother looked so beautiful. Thank you BOL!

Maura Barry


November 30, 2021

It was such a pleasure working with Amy and the rest of her team at Beauty on Location for my wedding. Erin and Alex were the make up artists for... show more my wedding. Although this was my first time meeting them as changes in my wedding date altered the availability of the artists, Amy has assembled such a talented group of women that I had no doubt that Erin and Alex would do a great job. They were so easy to work with and gave me and my bridal party that natural glow that Beauty on Location is known for. They truly made us all look and feel beautiful and I would highly recommend them to anyone looking to enhance their natural beauty on their wedding day.

Nicole Brand


September 30, 2021

The Beauty on Location team was fabulous from start to finish! Working with them to book (and then rebook!) my wedding was quick and easy. The artists working with me... show more and my bridesmaids were Cari and Casey. Both of them made everyone look like they were glowing and radiant. Most of my girls wear very little makeup day to day, but they all felt so comfortable working with Cari and Casey and loved the final results. all the guests kept commenting on how gorgeous and natural everyone looked. Thank you, thank you for being such an important part of our special day!

Madeline Roberts


August 30, 2021
Get In Touch With Our Makeup Artists
Questions about our work or your options when it comes to your wedding day?
Click below to contact us or reserve your date!